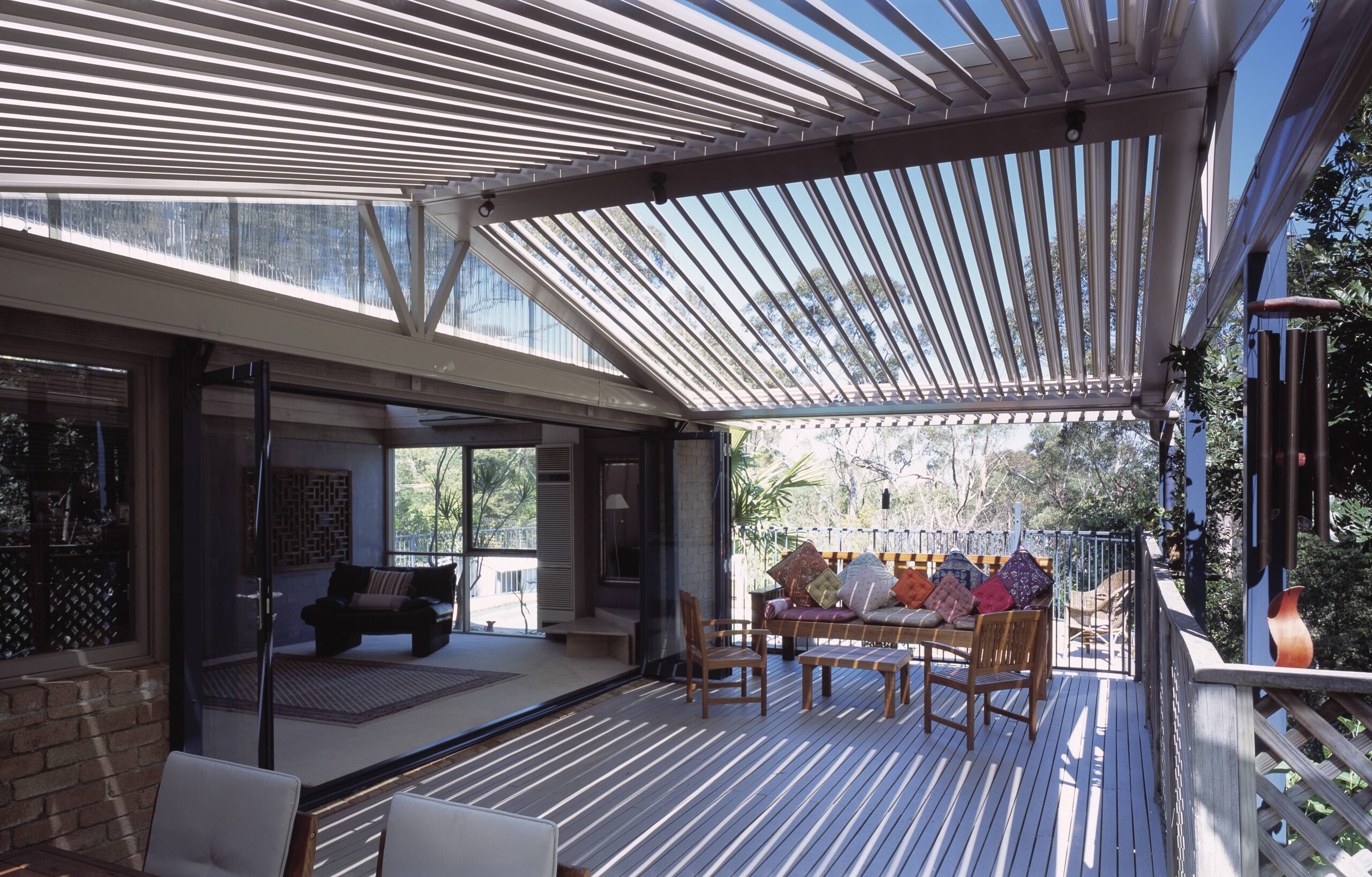 Choose the right mix of sunlight
Do you have an outdoor area you have not been able to use due to weather? With the Eclipse Opening Roof you can enjoy outside entertaining all year round and have an outdoor space to retreat and relax, no matter what the weather.
Featuring an integrated weather control system, the Eclipse Roof gives you the ability to choose the right mix of sunlight, shade and ventilation to maximise your comfort. The powder coated aluminium louvers rotate 180° for optimal comfort.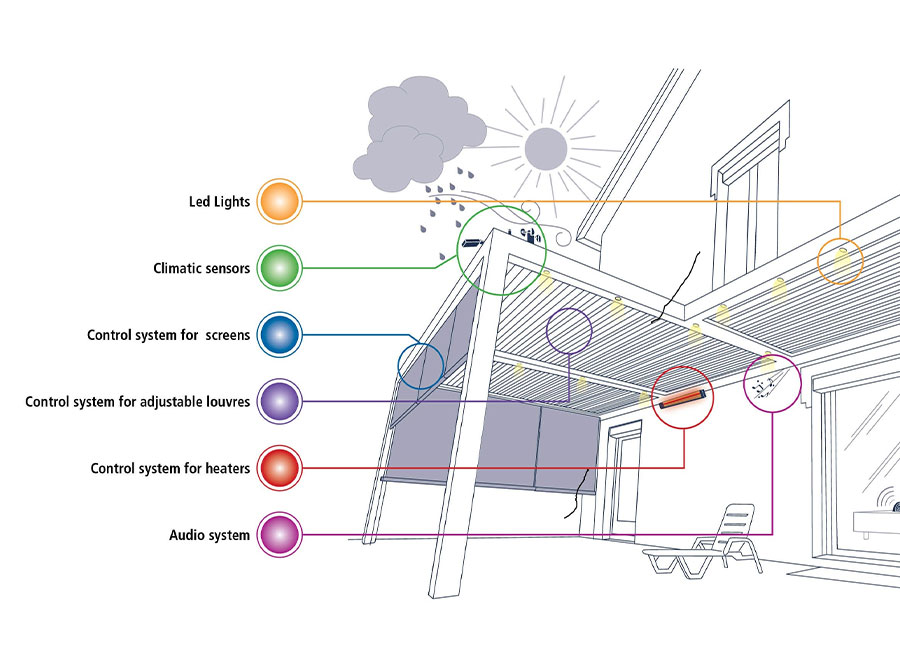 Smartphone operation
The 'Eclipse' opening & closing patio cover has always been popular but now it has really stepped it up a gear. You now have the ability to control the louvers with your smartphone, tablet or computer.
But wait there's more……You can also control not only the louvers but your lights, blinds, fan & heater all from your smartphone. One device, all of your features/Lifestyle Accessories in the palm of your hand.
Simply, easy, clever.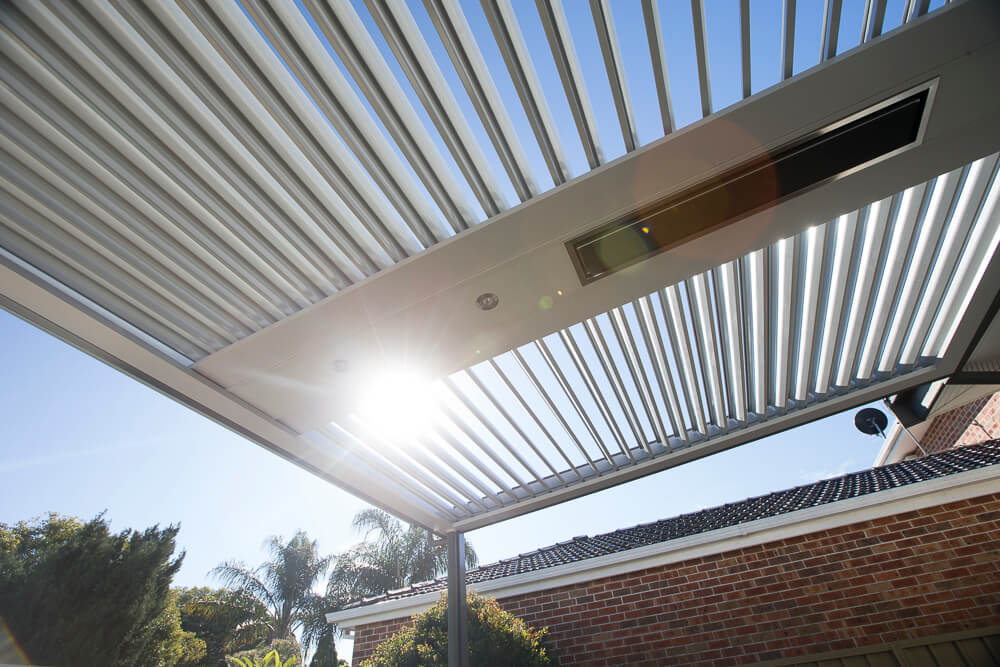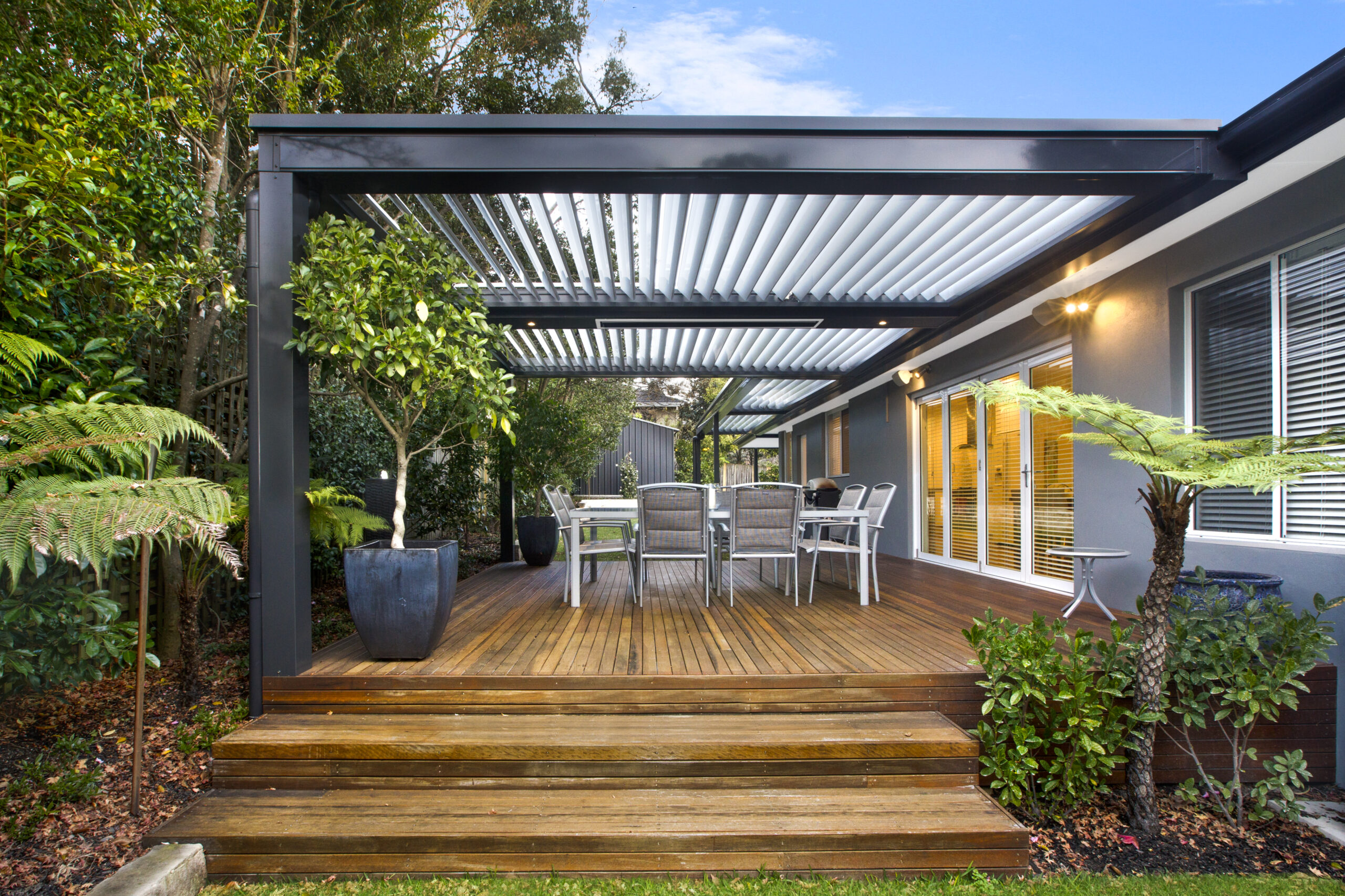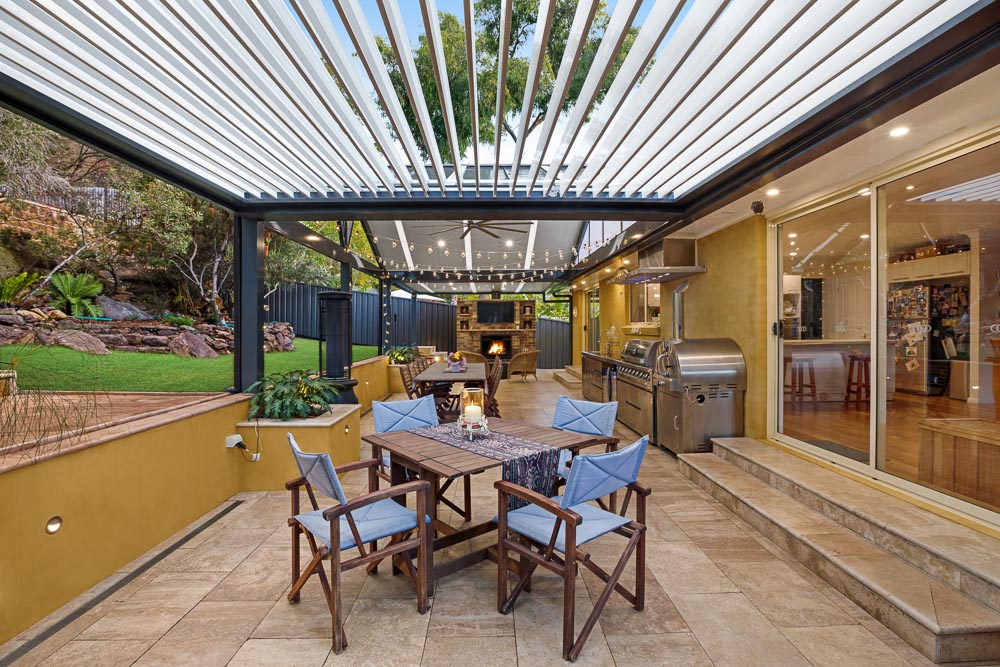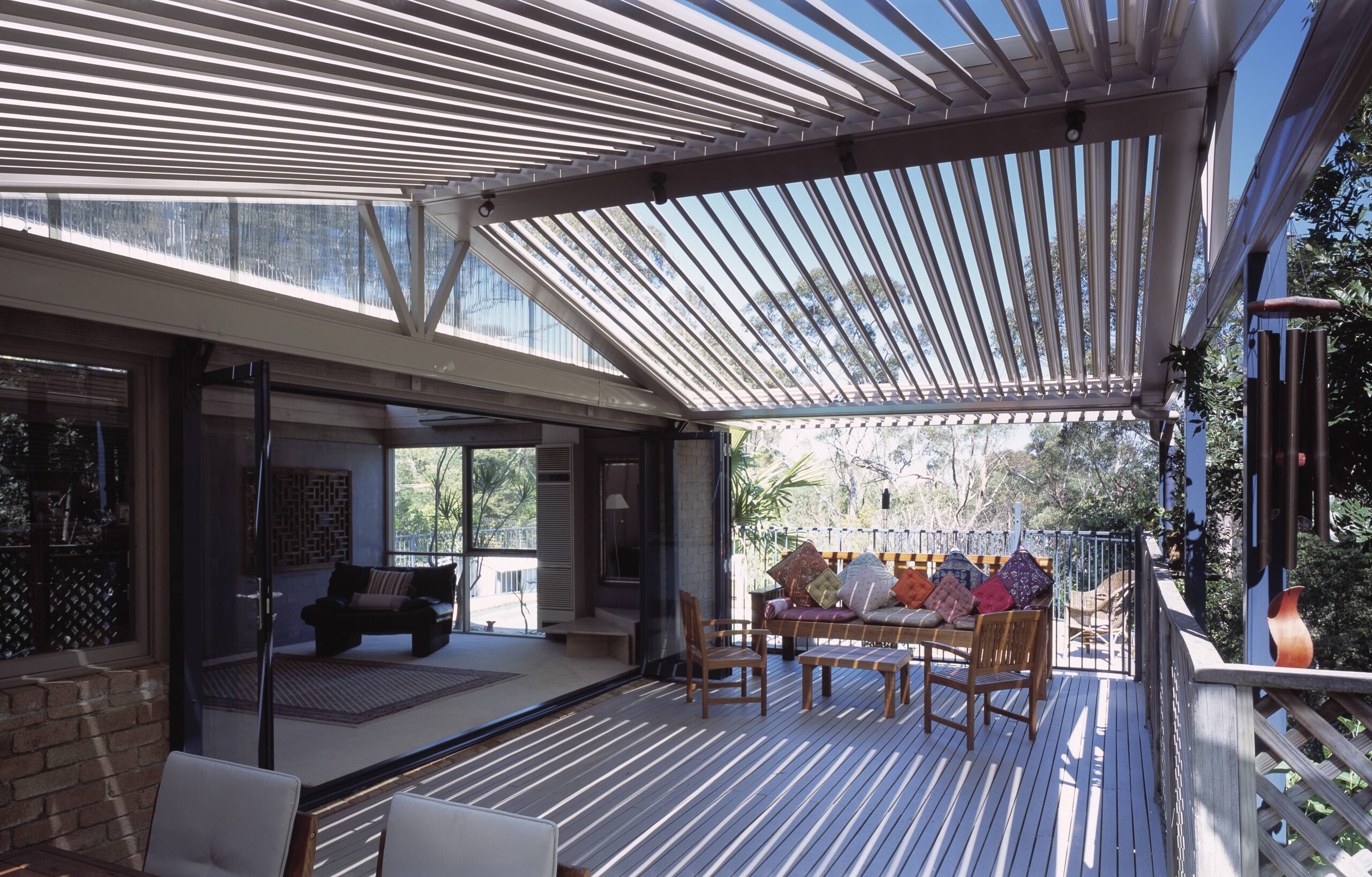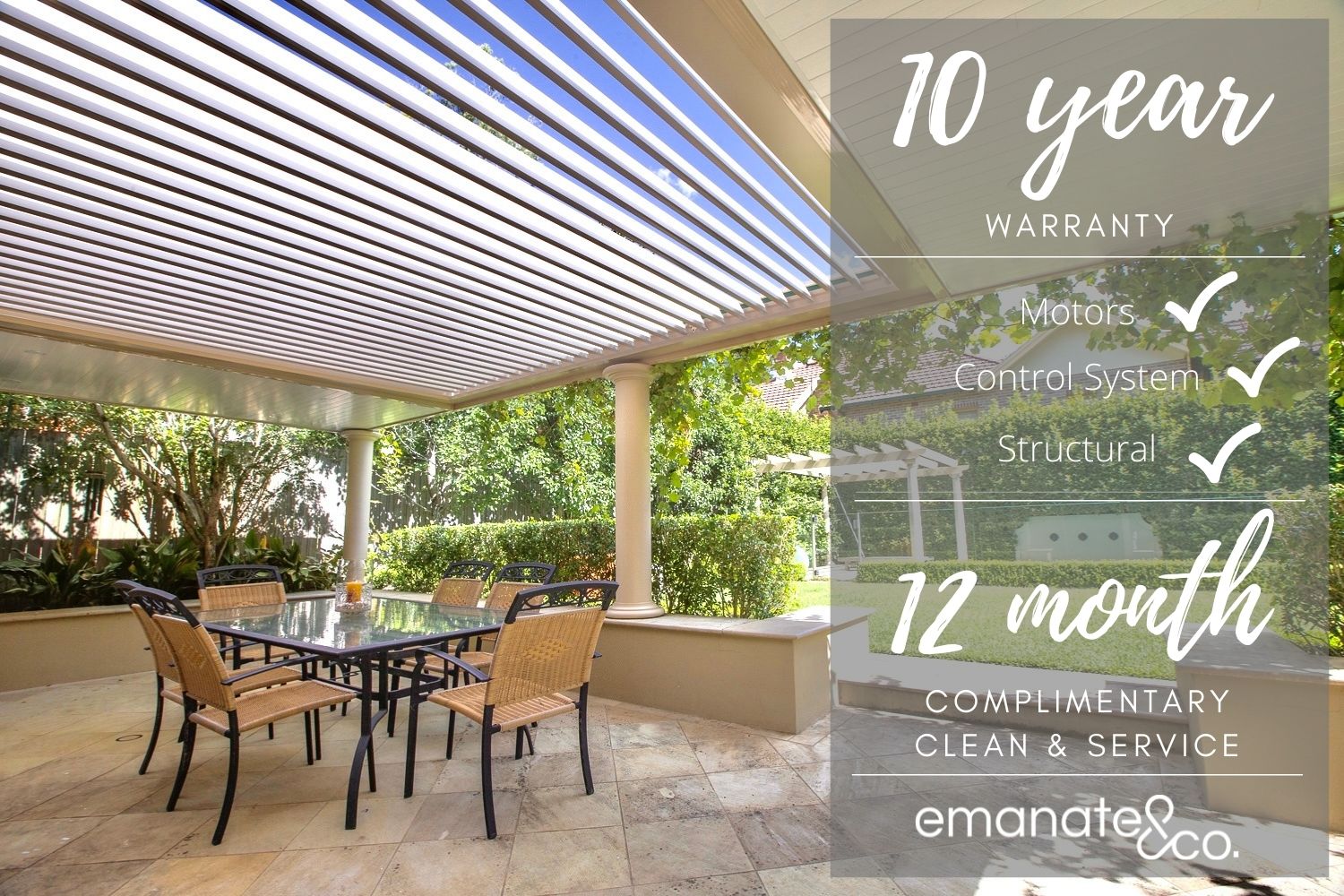 FAQs
Planning your outdoor living and deciding which is the best option for your home can get a little confusing. So, we've put together the most commonly asked questions from clients, however if you can't find the information you require please contact us and we can help answer any other queries.
The 'Eclipse' louvers are a one piece aluminium extrusion which are then powder coated for a colour finish.
Each louver has stainless steel pins at each end – the stainless steel combined with the aluminium gives a perfect, durable, long term finish. This is the difference – quality & durability.
As there are both aluminium & stainless steel materials incorporated within the louvers, this can make our outdoor living areas slightly more expensive.
Yes, there is no need to move inside if the rain sets in. Once the louvers shut, they lock into each other and create a water barrier, preventing water dripping between the louvers.
The louvers are also constructed with a fall to direct the water away into the gutters & prevent it building up.
The water carrying capacity of the louvre is exceptional:- the design of the louver extrusion provides a deep trough to carry away rainwater. There is also a splash-back gutter cavity within the louvre that stops capillary action when the louvres are overlapped in the closed position.
Yes generally any custom angle can be provided for to a single side of a bay. This will enable you to follow your garden bed, retaining wall or provide a unique contrast for your outdoor living area.
No. We include all necessary electrical within our description of works as standard as completed by an licenced electrician.
A 'switch plate' the size of your standard home light switch is fixed to your wall, generally next to your current light switch in a location where you can see the louvers.
The switch plate enables you to operate each bay of louvers together or independently, along with standard functions including the rain sensor.
A remote control option is also available.
A transformer is hard wired by our licenced electrician into your homes power supply. This in turn operates a 'Weather Control Unit' which is housed either within your eave line or externally on the wall in a weather proof box.
This powers a stainless steel, 12 volt motor to each bay.
You can also upgrade your opening roof patio system so you can operate it via your smartphone. Not only can you operate the Eclipse louvers but also all of your patio cover accessories on the one device. Fans, Heatstrips, lighting, blinds etc….how cool!
No. The 'Eclipse' louvred patio cover system can only be operated via remote control or the electronic switch plate.
Our approach
Asking the right questions at the beginning
Digging deeper to find the right solution
Consultative, considered, creative
Focus on innovative, clever solutions
Getting the little things right
Our service
Accountable and accessible
Client first – always
No short-cuts, no stone unturned
Relentlessly responsive
Flexible, reliable, courteous
Old fashioned values, modern business
Our quality
The best materials + pride in craftsmanship = lasting value
Context sensitive – designing with a sense of place
Custom-built, unique designs
Blending the home with the outdoors
Your home. Only better.
"It is well worth paying for a quality outcome delivered by a quality team.

Craig; West Pymble
Get in touch