"The Best of Both Worlds" in Berowra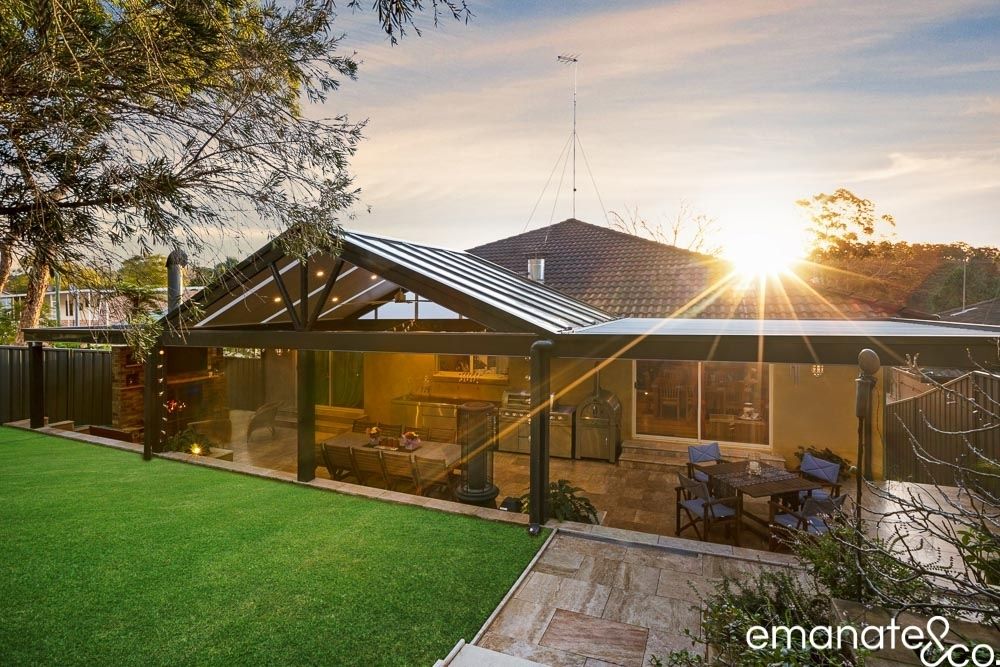 Every story has a beginning…
A referral from a previous client brought Mario & Donna to us, however, their journey started a little while before our initial meeting in our display.
The photos below show the beginning of the project which went even further back commencing with the concept plans developed with Landscape Designer Lisa from "LH Studio".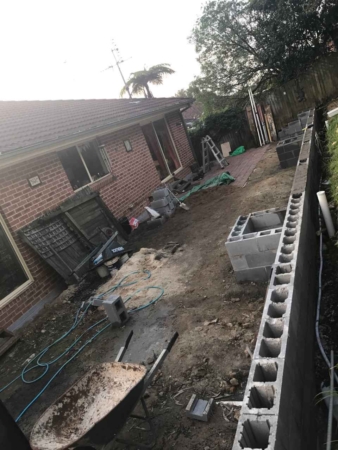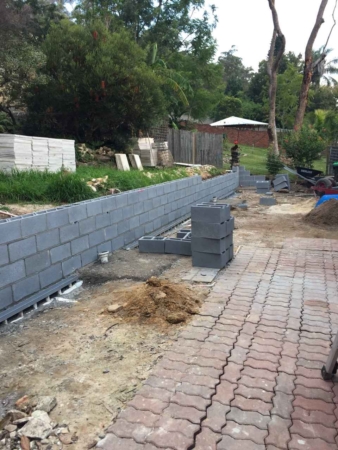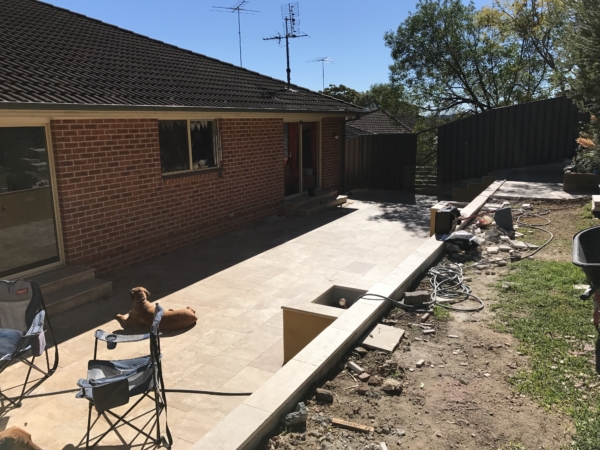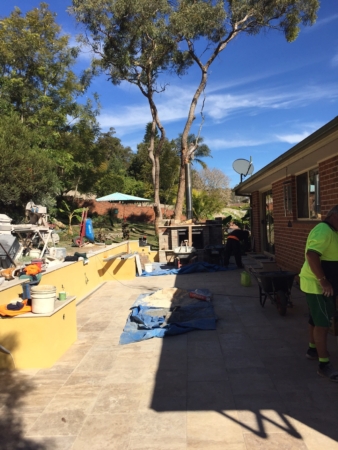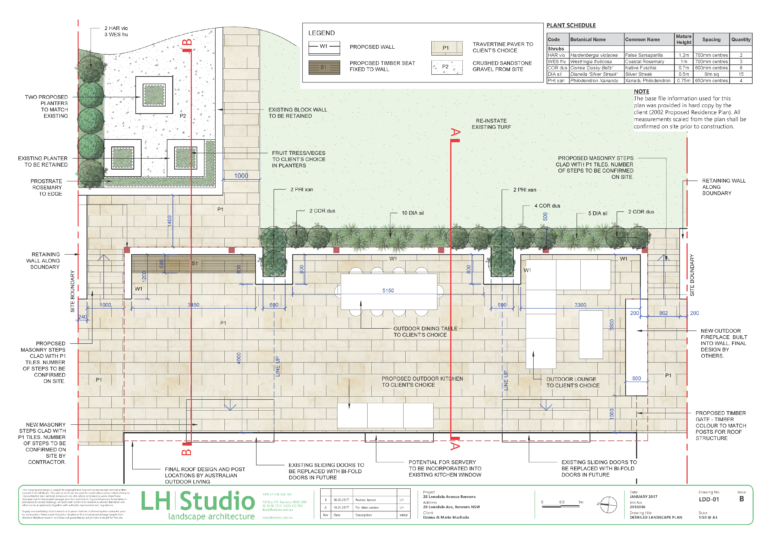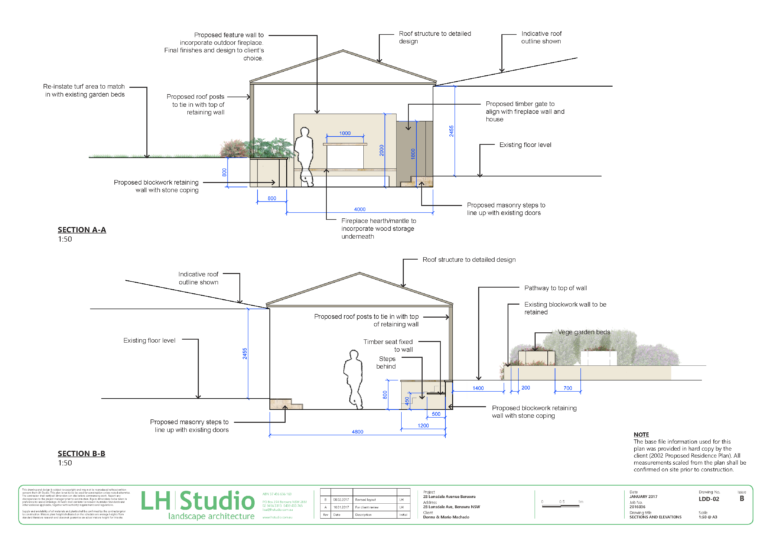 Specifications:
Colorbond framing as required, coloured 'Monument'
150 x 150mm aluminum posts, coloured 'Monument'
55mm 'Shademaster' Insulated roofing sheets on both gable & flat sections
115mm wide 'Nature Lites'
LED downlights embedded within roof sheeting on both gable & flat sections
Open front gable end with 'Wagon Wheel' decorative insert, rear gable infilled with opal polycarbonate
22.5 deg traditional gabled roof pitch
'Eclipse' aluminum louvers, coloured 'Pearl White'
Custom internal Colorbond box guttering on opening roof bay matched on flat insulated section
Project value $57,000 (GST incl.) dated 2018
Note: project value incorporates Local Authority approval, supply of all material & installation as required. All electrical as required with installation by licensed electrician. Local Authority approvals & supply of fans were additional.
Let's walk you through the area…..
Watch the video as Adrian walks you through the finished construction & talks you through the project.
We commenced with the drafting of plans then lodgement of a Development Application to Hornsby Shire Council, taking care of the required paperwork & approvals for our client.
The area is shaped long & rectangular, running from one end of the house so it has been designed to incorporate three distinct areas, each blended into the other seamlessly. The basis of the original design has been built upon to incorporate the three areas although we've attached the rear of the house fascia rather than sitting above the existing roof line which was an option, however, we decided that combined with the louvers & gabled sections it would still have adequate height.
Starting on the right-hand side we essentially have a casual seating area, perfect for coffee or reading the Sunday morning papers. Covering this section is a single bay of louvered or opening/closing patio cover which gives flexibility to the area – the owners can adjust the louvers to suit the weather. Open them right up in Winter & let the warm sun pour in or adjust for Summer so you get the shade but also let the hot air escape.
The middle section is the main or formal outdoor entertaining which sees a large, traditional gable. This has been covered with an insulated roofing sheet & combined with 'nature lites' which are strips inserted into the roofing sheet to let in natural light. The best way we describe it is it's like having a fluro light on during the day – which enables some soft light to enter without the hot Summer sun.
Lastly, the insulated roofing has been extended into the left-hand side flat section which covers the custom outdoor fireplace that also includes a wall-mounted TV unit. This is a more casual or informal area – suitable for having a few beers whilst watching your favorite sport.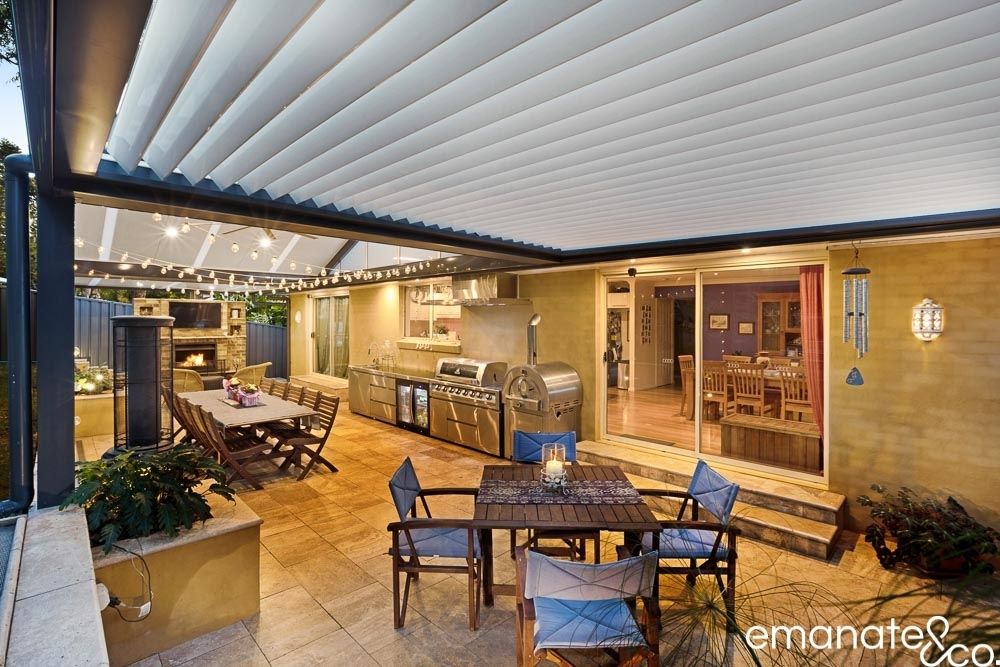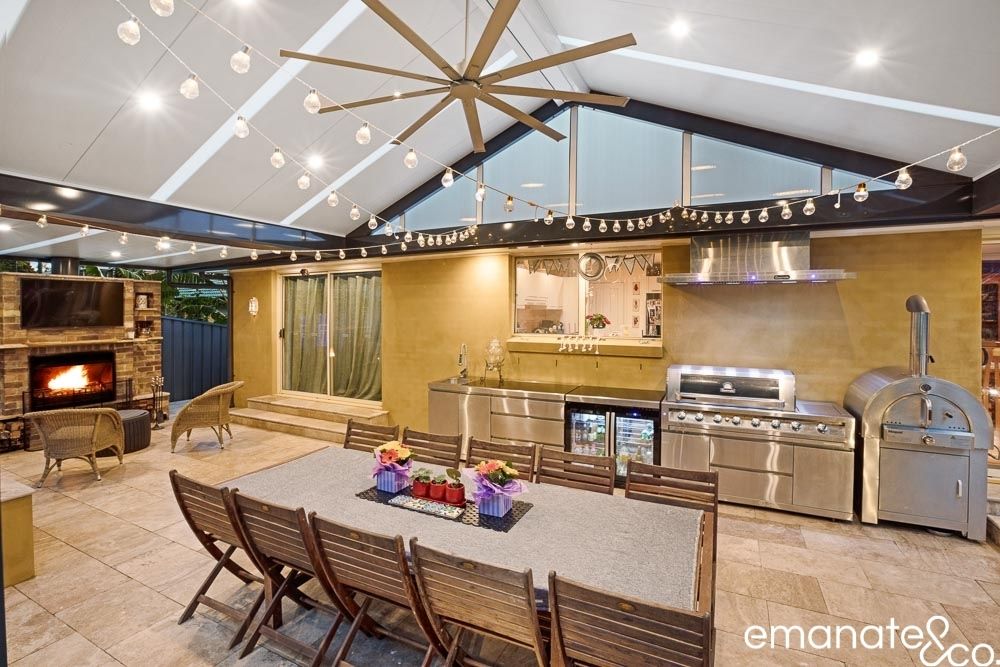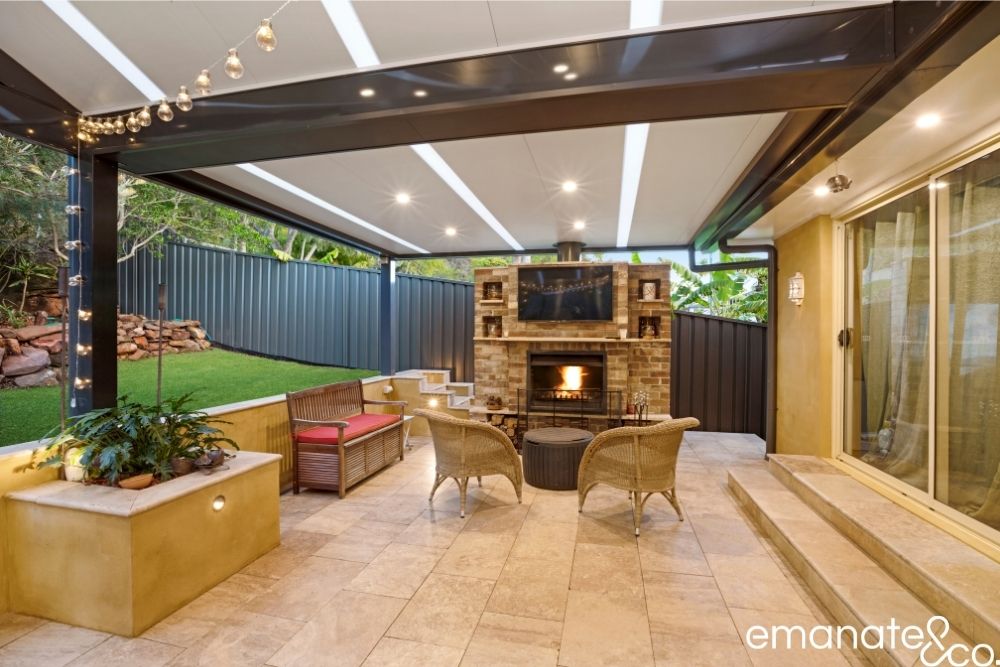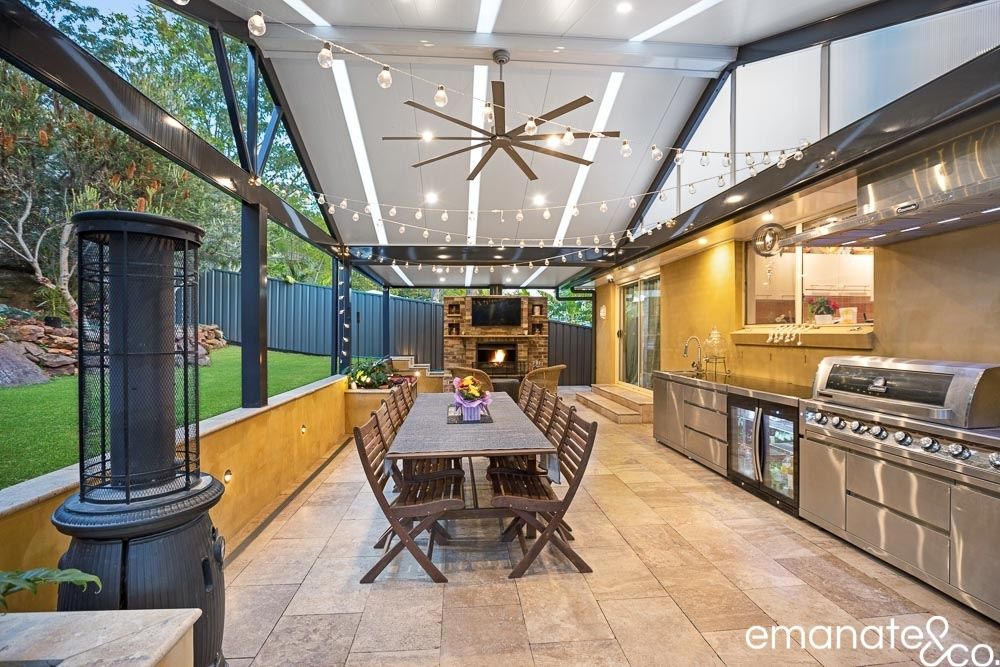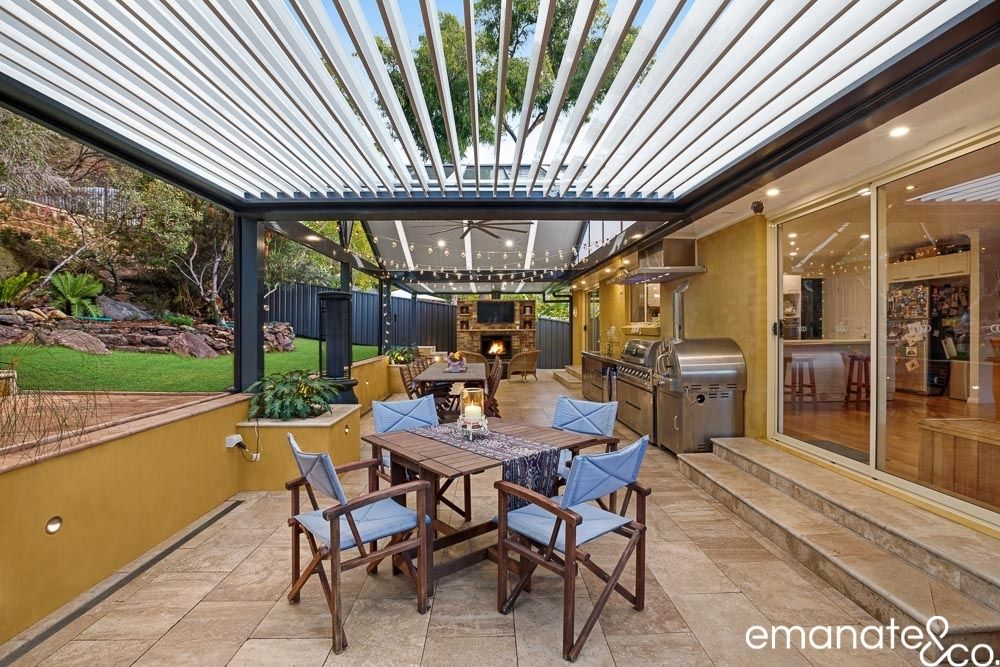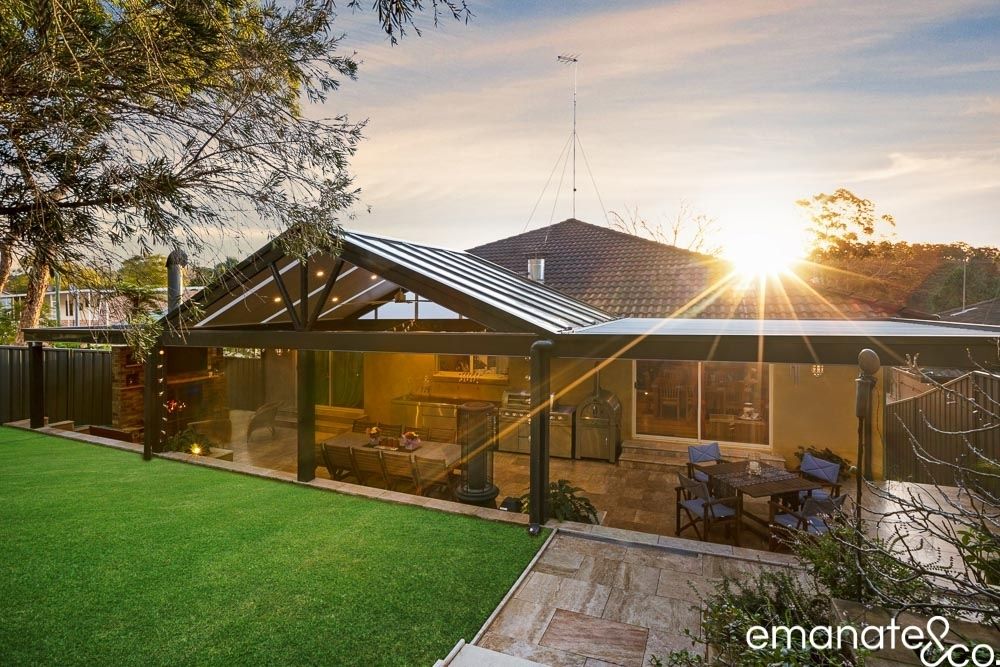 "Adrian and his team William, Adam and Ben were fantastic. Mario and I are thrilled with our patio roof.
Adrian provided great advice and William, Adam and Ben were the best tradies I have ever had onsite.
They were polite, considerate and a hard working team; cleaning up after every day and taking rubbish away with them.
I highly recommend them to anyone considering a new roof for their deck, pergola or patio.
I wouldn't hesitate to use them again. Thank you"
Would you like to find out more?
Can you entertain our relax outside all year round? Is your BBQ & outdoor furniture always covered? Contact us to have a discussion about the options available for your home.