The Outdoor Room at Cammeray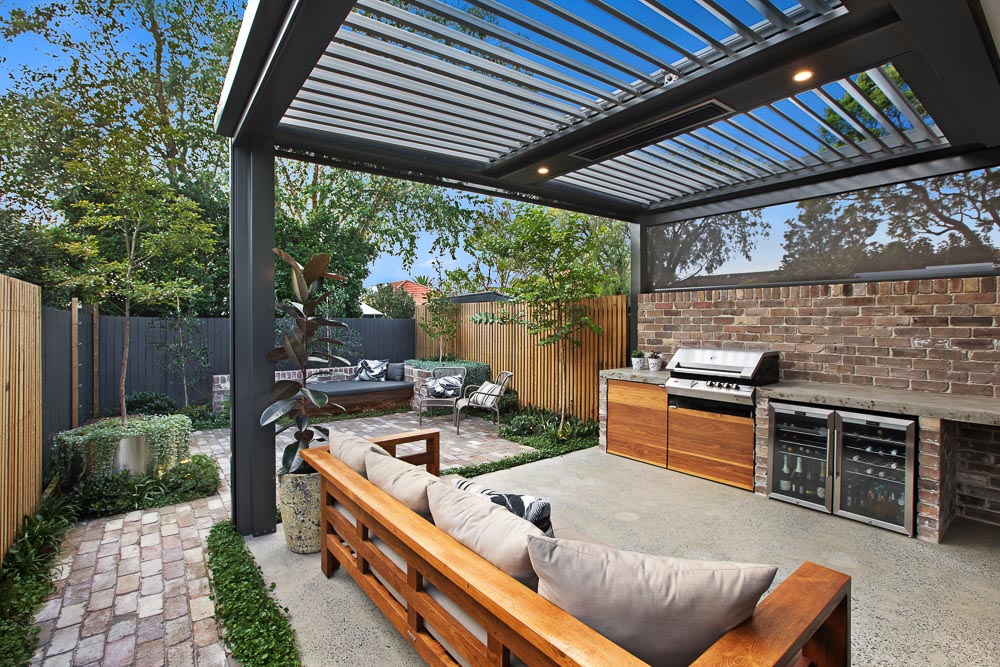 Where it all starts…..
We were invited into this project by the Award Winning landscape designer/architect "Eco Design" who alredy had a relationship with the clients & had started the full backyard re-design process.
They were looking to update a tired area & essentially for a totally new backyard. This incorporated an outdoor living area that they could use all year round.
The picture below is at the beginning of the process & this is a normal situation for us; where we are brough into a home where they have no ability to entertain or relax outside.
Notice how the BBQ is covered, the chairs are stacked & the umbrella is put away – there was a clean slate to work with.
Eco Design already worked through a desgin with the client & through our pre-existing relationship with the them they knew what we could bring to this project.
During this initial design phase, we offered a number of suggestions, discussed colours & accessories with the clients to bring to life their vision & what was designed on paper.
A private meeting in our display with the clients, enabled them to make their final selections in relation to colours & material sections.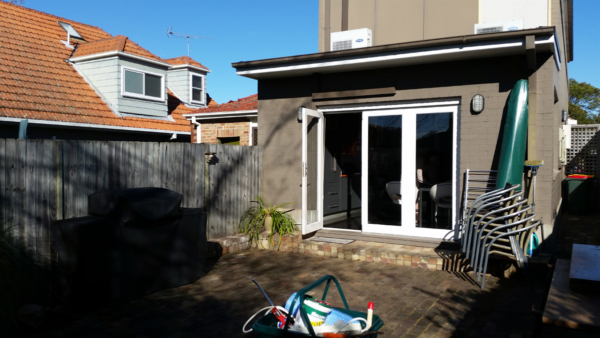 Once the design was finalised with worked in with the landscaper "Ballast Landscapes" who were to complete the bulk of the hard landscaping to the rear yard. So after the pavers had been removed & a new slab had been laid were came in to commence the construction of the 'Eclipse' Opening Roof. Below is a progress photo, where you can see the frame has been constructed & the louvers are in the process of being installed.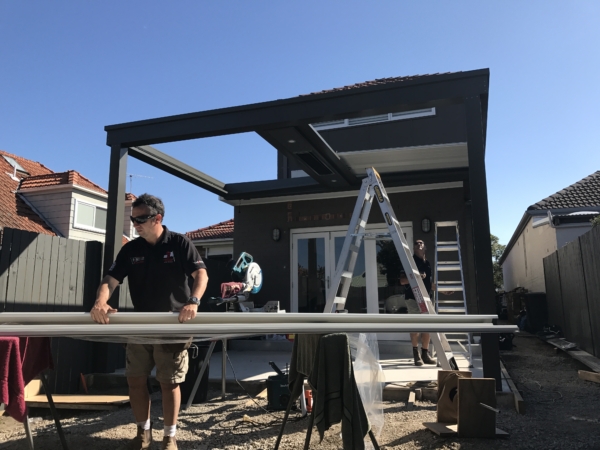 Specifications:
Powder coated 250 x 50mm aluminium frame, coloured 'Woodland Grey'
150 x 150mm powder coated alumium posts
'Eclipse' flat powder coated aluminium louvers, with stainless steel pins. Louvers running in North/South direction
Mid 'bulkhead' housing LED down lights & flush mounted 'Heatstrip' Classic outdoor heater
Colorbond internal guttering to each bay & flashings as required
Internal switch plate operation of the louvers & Heatstrip
Project value $25,000 (GST Incl.) patio cover construction only
Note: project value dated 2016 & external blinds are additional
The Final Result…
This is a perfect example of how Lifestyle Extras & Accessories help to enable you to utillise your outdoor living area all year round. The exterior blinds help create 'Outdoor Room" where the winter can be shielded, louvers shut & the Heatstrip turned on to give a cosy atmosphere.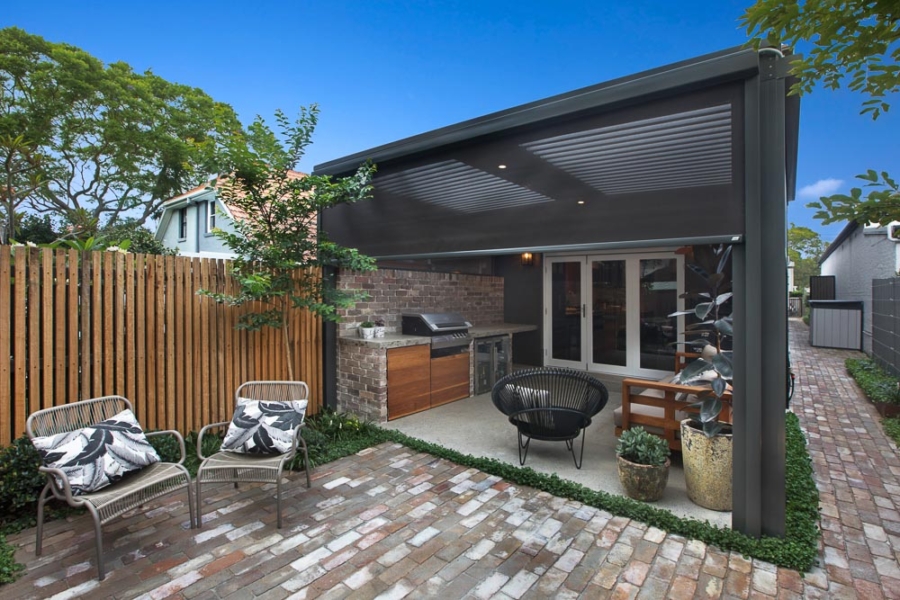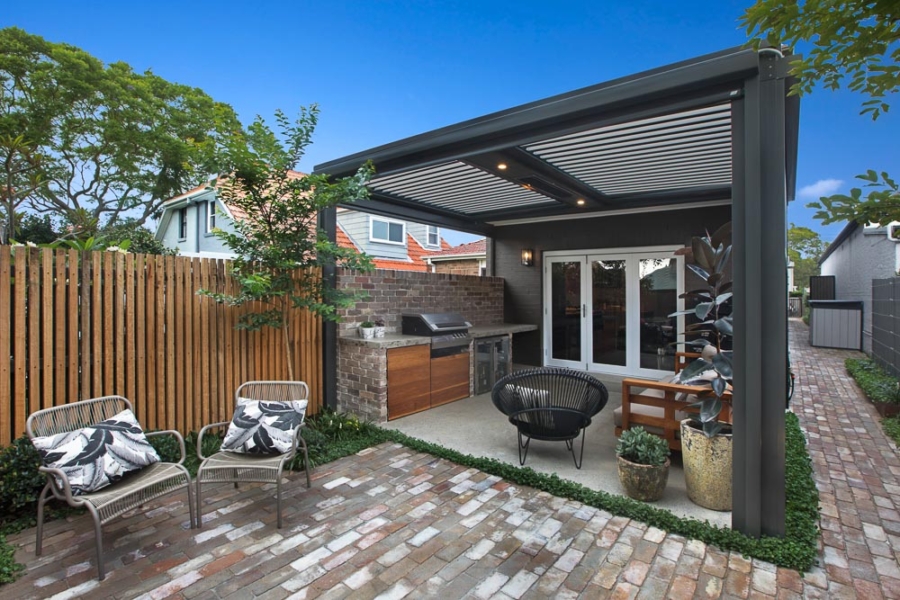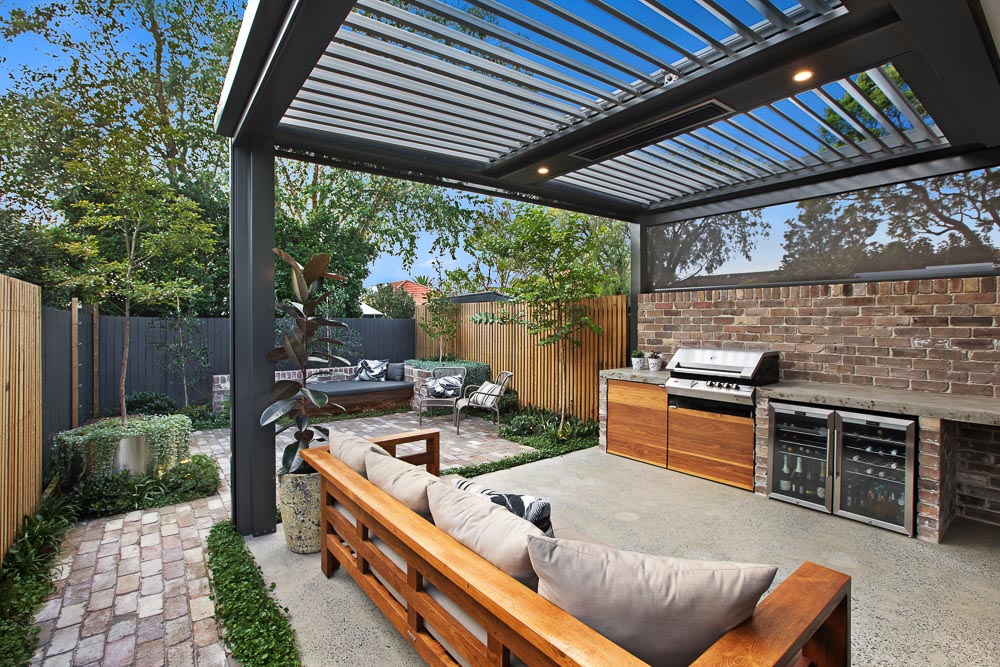 Would you like to find out more?
Can you entertain our relax outside all year round?
Is your BBQ & outdoor furniture always covered?
Contact us to have a discussion about the options available for your home.