A common question we receive is "When can you start building my deck?" or "How long does it all take to get started on our patio cover?"
Every renovation project needs a plan. A quality construction might not be completed in a single day or even a month & often a lot of work is often required to be completed prior to commencing your build. Some people might dismiss this process but this will ensure you get a better result at the end of the day & will also mean you won't run into problems with your builder.
Now is the time to start not only your thinking, but getting the 'nuts & bolts' together in the process to your outdoor living area.
Why? Because every year we get the phone call (even in December!), begging us to get their deck or patio cover completed for Christmas which realistically just isn't going to happen.
Watch the video below & we'll talk you through the process…
We close our books for works to be completed prior to Christmas each year generally in late August/early September, so you need to start to factor in a number of elements earlier in the year which will enable you to be sitting outside in style & comfort over Summer.
What is the saying?? A Summer body is made in Winter – well it's the same with your outdoor living area & home renovations.
Renovations often take longer than people think. You don't see the behind the scenes work & mayhem that goes into an episode of 'The Block' & the end result that you see on the TV show isn't necessarily reality. (Funny that when its reality TV!) Why? Because as much as I'd love it to, these things just don't happen in a one hour episode or even a day.
Most of our work requires some kind of an approval & the misconception is that its either:
Its only a deck why do I need an approval, or
I can just go to a private certifier & they can approve it straight away
Both can be true however more often than not both statements can't work as the deck is 50 mtr sq & the outdoor living area doesn't meet the Complying Development requirements. (refer to our other blog "CLICK HERE – Do I need an approval for my outdoor living area?" for further information on this)
So, I say to anticipate that you will need an approval; if the reality is that you don't & you fall within the Exempt Development criteria then 'bingo!' you are in front & you've had a win.
Often I talk to people who are trying to create their dream outdoor living area within the Exempt Development rules & it just doesn't work – they are trying to fit a square peg into a round hole & they are wondering why they are not really getting what they are ideally after.
So, start with your dream – include everything that is important to you & your family when you entertain, get the budget right & then evaluate the approval criteria. When you are designing your outdoor living area a great consultant/designer should be constantly assessing your ideas & if they see that there won't be a compliance with the building code or council they should steer you in the right direction.
The following provides a basic outline of the steps involved and approximate timelines normally seen with constructing an outdoor living area. Please remember that these are provided as a general guide only & that each project muse be considered on its individual needs & requirements.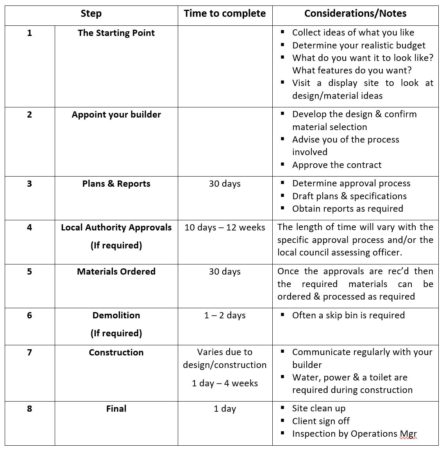 The "The journey of a thousand miles begins with one step" & it's the first step that is the most important. We often tell people to "go slower to go faster" as this ensures that they get what they are after & they tick most of their boxes – rather than going like a bull at a gate, rushing & then trying to undo things which can prove quite messy.
So where will you be entertaining this Summer?