How to create a seamless indoor-outdoor connection
The heart of any home is where people come together. Gas Strut Awning Windows allows you to bridge the gap between your indoor and outdoor living spaces effortlessly.

The line between indoor and outdoor blurs, creating an open and inviting atmosphere where your friends & family can mingle, chat, and savor the evening.
Awning windows are not just practical; they create a WOW design feature that sets the stage for memorable gatherings. They also allow natural light to flood your home, creating a warm and inviting ambiance.
Bring Your Indoors. Outdoors.
They're not just windows; they're gateways to an effortless hosting experience. Imagine being able to serve food and drinks from your kitchen directly to your outdoor dining area with ease.

With a simple open of the window – your kitchen countertop now easily extends out into your alfresco outdoor living space.

Your guests are served easily, and you get to enjoy more time with them, rather than being stuck in the kitchen.

Picture a family brunch where you effortlessly serve fresh pancakes, hot coffee, and a platter of fruits from inside while your loved ones relax on the deck.

No more back-and-forth trips; just seamless connection that keeps the conversation flowing and the smiles intact
The gas strut window provides a seamless transition from inside to outside, perfect for entertaining areas.
Operating this type of window is simple – turn the handle to release the lock, then a light push of the window to engage the gas lifts, which raises the sash to its near-horizontal resting position.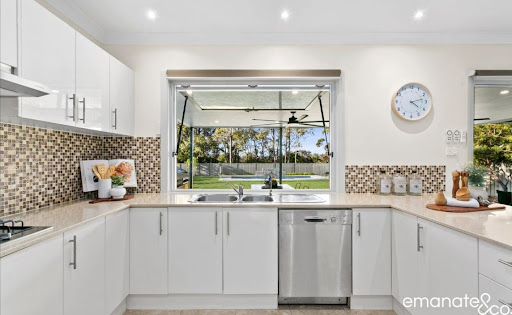 Awning windows are not just functional; they are the architects of unforgettable moments.

They open the door to a world where your home becomes a welcoming space for entertainment and relaxation.

With the convenience of serving food and drinks seamlessly and the sense of togetherness they foster, awning windows redefine the way you connect with family and friends.

These windows are more than an architectural feature; they are the bridge to cherished memories and lasting relationships.